Take Out and Delivery available
WELCOME TO HARP & CROWN PUB
Harp & Crown Pub is a Canadian locally owned neighbourhood pub with a long history in the Pickering area. We are at 300 Kingston Road in Pickering.
We are famous for our wings, ribs and steaks. Add to that our good selection of wine, beer and spirits, and our great selection of classic pub fare and you have just found your perfect pub.
We are committed to second to none service and excellence in food and drink offerings. Come in for dinner, for a sporting event on our big screens, a pint on the way home, a meeting place for friends and family, enjoy live entertainment like DJ, band, karaoke or hosting local events. Harp & Crown Pub can and will accommodate and excel in exceeding your needs.
$11 Butter Chicken, Spicy Chicken or Mild Chicken Curry
(with Naan and Rice)

Wednesday and Friday 25% Off Select Menu Items
(with Purchase of Beverage)

Saturday STEAK NIGHT
AND MORE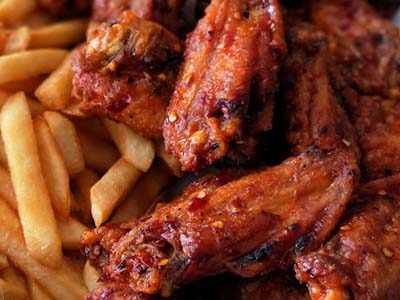 Come in Classic Flavours and Many Choices of Creative Sauces
Classic Steak and Garlic Shrimp served with Loaded Potato and Vegetables
Choice Cuts of Tender Pork or Chicken Marinated and Served with Rice, Greek Salad and Tazatziki
Mounds of Tender Roast Beef on  French Stick with Au Jus for Dipping
Click on the icons below to follow us on Facebook and Instagram for our latest update with a chance to win giveaways.
Instagram
@harpandcrown905
AMAZING SPORTS FAN EXPERIENCE
We have over 20 wall-to-wall TV setup.  Harp & Crown Pub is the best place to meet sports fans. You can come cheer on your favourite hockey, basketball, football, baseball or soccer team.
Join us on games night, enjoy our great food, outstanding hospitality and friendly atmosphere.  Harp & Crown Pub is the place for a stadium experience for sports games without the lineup!
Are you looking for somewhere to host an event? Whether you are looking to host a birthday party, local event, team dinner, stag and doe, or even a corporate party, we can help you plan a memorable event that suits your needs and budget. Give us a call or book online here.
Positive reviews from awesome customers like you motivates all of us in Harp & Crown Pub
We value our customers feedback
AB
Great little spot for a drink or some quick food. I've been twice so far and both times I was pretty impressed. The portions for the food are quite large for the price and very well prepared. The staff are incredibly friendly which makes it even more enjoyable of a place. Lots of food and drinks specials throughout the week as well.

Maria S
I would love to visit this place again and try the other things in their menu as well. Great food, helping staff, quick service and good vibes.

Bill C
Really warm and welcoming neighborhood pub. Waitress was very friendly, attentive and nice to talk to. Our supper was very good as well. Just a nice place that deserves our support. My first visit, but it won;t be my last.

Ravi S
Excellent food. We had a big group and the food and drinks were coordinated very well. Service was good.
Eric G
So many good memories. Been going there for over 1 year now and never had a bad experience!
Follow us on Facebook and Instagram for the latest event schedule.  We will have Karaoke, DJ Night and LIVE BAND playing when the government permits a gathering.
Instagram
@harpandcrown905
300 Kingston Rd,
Pickering, ON L1V 1A2
11 AM to 2 AM
7 Days a Week